Speed increasing gear box of 135m finishing mill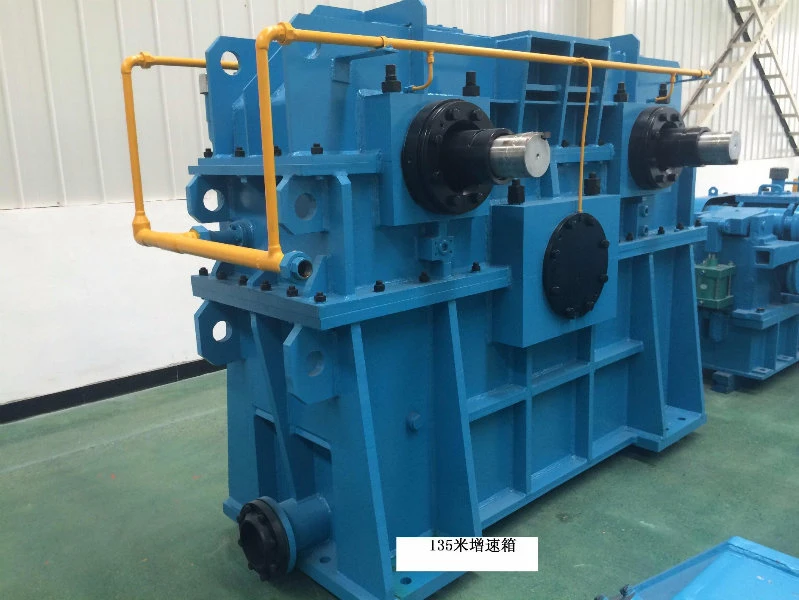 Composition of speed increasing gearbox
Spare parts of speed increasing gearbox case(lower case, middle case and cover), support base, big gear, transmission axis, bevel wheel and lubrication system.
Technical characteristics
Box is melt with thick steel with great quality to reach the intensity that the case required. Case should take stress aging treatment before the produce to reach the stability that required. High precision lathe machining is used for the assembly of cases to insure the locating accuracy of each bearing holes and related joint surface.
Big gears and gear shaft used carbon alloy steel forging blank, after roughing, workpiece need to take ultrasonic flaw detection process to quench. In order to ensure the tooth surface with high hardness, tooth surface need to take carburizing and quenching treatment after semi-finishing. Fine grind of tooth surface to insure the high accuracy, after finishing the production of gear, the balance test is needed, the trail speed is 1500r/min and the balance precision grade is G2.5. The trail speed of bevel wheel is 3500r/min, the balance precision grade is G1, in so to ensure the rotary precision of the gears.
Transmission shaft use the alloy steel forging blank, transmission shaft takes quenched to make sure the intensity and durableness. After the semi- finishing, transmission need to grind to guarantee the accuracy of every workpiece.
When the assemble finished, the no-loading test should be keep 2-4hours, the speed is 1100r/min, the temperature of shaft should not exceed 40º C, the work of gear should be smooth, no hitting noise and concussion, every joint surface should not have oil spill phenomenon.
| | |
| --- | --- |
| Item | Bevel gearbox for 90m finishing mill group |
| After Sales Service | Engineers Available to Service Overseas |
| assembled shaft speed | 4550 r / min |